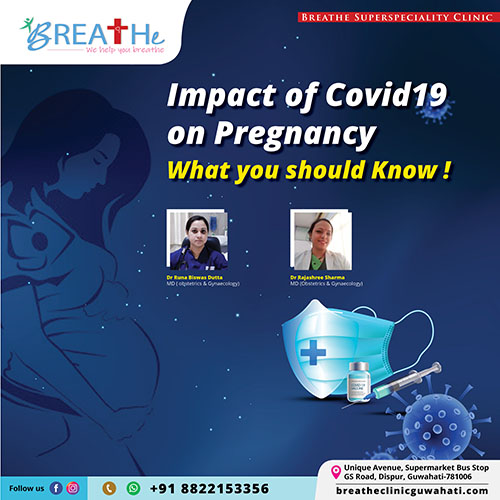 Pregnancy can be a time of joy and excitement for new mother and their families. But the coronavirus pandemic has given raise to concerns. Are you and your baby at risk? If you are a pregnant woman, undoubtedly, a lot of questions spins around you, like whether the Coronavirus poses any threat to you and your baby. There are no proven results yet, due to the progressive nature of the virus. The effects of Coronavirus vary from person to person based on many factors like immunity levels, underlying health conditions.
However, by following the advice of expert doctors and taking preventive measures, you can protect yourself and your child from COVID19 and can have a healthy & happy pregnancy. Our expert doctors at Breathe Superspeciality Clinic, Guwahatican guide pregnant women by making them know about Coronavirus and the impact on pregnancy.
Avoiding the Coronavirus During Pregnancy
Avoiding infection with the coronavirus is a top priority for pregnant women. f you're pregnant, you should precautions from getting COVID-19. Do everything you can, including physical distancing, wearing a mask, hand-washing and staying in close communication with your doctor.
Are Pregnant woman at higher risk for Covid 19?
Pregnant women or recently pregnant women who are older, overweight, and have pre-existing medical conditions such as hypertension and diabetes seem to have an increased risk of developing severe COVID-19.
Due to changes in their bodies and immune systems, we know that pregnant women can be badly affected by some respiratory infections. It is therefore important that they take precautions to protect themselves against COVID-19, and report possible symptoms (including fever, cough or difficulty in breathing) to their doctor.
Should Pregnant woman be tested for Covid 19?
If you think you have Symptoms of Covid 19 or are exposed to a person with Covid , talk to your Doctor immediately about where to go for testing. Pregnant women with symptoms of COVID-19 should be prioritized for testing. If they have COVID-19, they may need specialized care.
Can Covid 19 be passed from a Mother to her newborn Baby?
It is not known if a pregnant woman with COVID-19 can pass the virus to her fetus or baby during pregnancy or delivery. To date, the active virus has not been found in samples of fluid around the baby in the womb or breastmilk.
Is Covid 19 Vaccine safe for Pregnant Women? Which is preferred?
The Federation of Obstetric and Gynaecological Societies of India (FOGSI) and The International Federation of Gynecology and Obstetrics (FIGO) have recommended Covid 19 Vaccine to all Pregnant & lactating woman.
Any available vaccine approved by the government of India and WHO is thoroughly tested and is safe.